Aces 1 v Brixton Ballers
Tuesday, March 20th, 2018 at 12:37 pm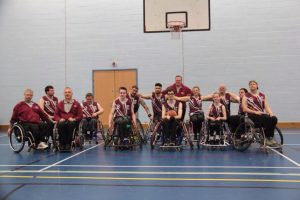 Aylesbury High School | 18 March 2018 | 14:30 
 Coach: Nesad Causevic
Squad: Jordan Luce (c), Leanna Adams, Charlotte Thornton White, Patrick O'Donovan, PJ O'Donovan, Jason Meyer, George Winsborrow, Lee Scrafton, Craig Winspear, Andy White and James Tait
The Game
The snow was falling but that didn't stop the Wheelchair Basketball at Aylesbury High School as Aces took on Brixton Ballers. It was the first game in the clubs new kit. Everyone at Aces would like to take this opportunity to thank Gerald Simmonds for sponsoring the purchase of the new kit and Fiona O'Donovan for organising and ordering the kit.
Now, back to the game…
Aces started the game with possession, converting that into a quick 2 points from Jordan Luce. The early momentum stayed with Aces as they kept the pressure on Ballers, limiting their attacking options and forcing turnovers leading to open shots at basket.
The second quarter was much of the same, with Aces maintaining the pressure on Ballers, with a strong defensive display Aces were able to limit Ballers shots on basket once again. Offensively, Aces quick transitions along with strong picks and good ball movement created more shooting opportunities for the home side, which didn't go ignored. Aces went into the half time break with the scores at 36-8 in favour of Aces.
The third quarter got underway with Aces reverting to a highline defensive position, allowing Ballers some space to attack. However, Aces defensive line stayed strong limiting Ballers open shots at basket once again. Defensive rebounds were the route to success for the home side as quick ball movement provided Aces with open opportunities once again.
The fourth quarter saw Aces revert to a structured press once again, creating opportunities offensively and restricting opportunities at basket for the travelling side. Aces communication, ball movement and general teamwork proved to be the winning recipe for Aces as they went on to win the game 73-25.
Most Valuable Player| Andy White. Andy was unanimously voted MVP by the players and bench for his ability to read the game, dropping back into a defensive position covering any attempt at a fast break from the opposition as well as reading our offensive play and making some long daring passes with perfect accuracy and timing to assist our forwards with their shots.
Coming Up…
Aces are next in action against Hackney Sparrows at Stoke Mandeville Stadium, Sunday 25 March 2018, tip-off 3:30pm