Aces 1 v Bury Bombers
Friday, November 24th, 2017 at 2:21 pm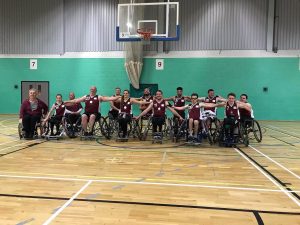 Stoke Mandeville Stadium | 05 November 2017| 13:30 
Coach: Nesad Causevic
Squad: Patrick O'Donovan, PJ O'Donovan, Andy White, Charlotte Thornton-White, Lee Scrafton, George Winsborrow, Ben Pritchard, Leanna Adams, Chris Rattenbury, Jordan Luce, Craig Winspear, Jason Meyer & James Tait
The Game:
Aces scored the first points of the game in the first minute after winning possession from the tip-off. Unlike previous games the home side used a pressing strategy sporadically, choosing to use a high line defensive set up when not pressing. Aces, like previous games continued to score with some consistency. However defensively, the high line defence had differing results. Aces won the quarter 20-13.
The decision was made in the second quarter to remove the press. Aces still managed to create some good shooting opportunities and were able to finish a high percentage of those opportunities. However in the defensive phase of their game, the high defensive line was still being broken through by the traveling side. The quarter ended much closer then Aces would have liked, Aces won the quarter, 14-13.
The structured press made a return to Aces game in the third quarter. The return of the press acted as Aces first line of defence, taking the pressure of the high line defence. The change in strategy allowed Aces to make the balance of the game shift in their favour. Bombers chances were reduced through the press, however they still managed to create shooting opportunities sporadically. The quarter score was, 18-12 in Aces favour.
In the fourth quarter the intensity that Aces had shown in previous games seemed to return, this along with the press allowed Aces to really start to pull away from their opponents. Defensively, the press acted as a good defensive set up and really limited Bombers shooting opportunities.
Aces won the quarter 24-11 and the game 76-49.
Most Valuable Player – Leanna Adams 
Leanna was nominated today's MVP for her scoring contribution to Aces game as well as her presence in the defensive phase of Aces game. Leanna was always on hand to provide guidance and assistance to her defensive partner. An example of a true team player.
Coming Up…
Aces are next in action against London Titans at Stoke Mandeville Stadium, Sunday 17 December 2017, tip-off 13:30 pm