Aces 1 v Hackney Sparrows
Wednesday, March 20th, 2019 at 5:02 pm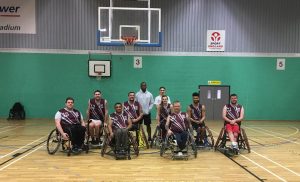 Stoke Mandeville Stadium | 9 March 2019 | 14:30
 Squad: Leanna Adams, Ella Beaumont, Jordan Luce, Zviko Chigumba, Barry Wells, George Winsborrow, Daniel Bingley, Denny Vettom, Craig Winspear & Andy White
The Game: Up next for Aces at home were Sparrows in British Wheelchair Basketballs Division 2 South. It was the travelling side that got the first basket of the game. However it was Aces who took early control of the game, scoring 16 points whilst the travelling side could only add 4 of their points to the scoreboard.
The second quarter got underway with a basket for Aces courtesy of Leanna Adams. Sparrows followed up with their first points of the quarter before Aces scored 8 points with Sparrows converting the one shot during this period of play. Aces closed out the quarter with a further 6 points without response.
Aces started the third quarter in the same way they finished the last, with a solid defensive display and an effective attacking display, going on to score 10 points without return. Sparrows first basket of the quarter came in the 7th minute courtesy of Jabbar. Aces were able to score a further 2 baskets before Sparrows closed out the quarter with 2 points from their number 15.
The roles reversed somewhat in the fourth quarter. Aces started the quarter with Leanna being fouled in the act of shooting, going to the free throw line for 2 and converting 1 of 2. Leanna showed great awareness as she claimed the rebound from the second shot, converting a shot from the paint. 8 points were then divided equally between the 2 teams before Sparrows went on to score 10 points without response to close out the quarter and game.
Aces won the game 51-30.