Aces 1 v Hackney Sparrows
Thursday, March 29th, 2018 at 1:19 pm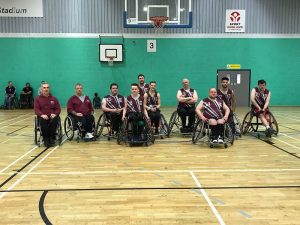 Stoke Mandeville Stadium | 25 March 2018 | 15:30
 Coach: Nesad Causevic
Squad:  Jordan Luce (c), Leanna Adams, Patrick O'Donovan, PJ O'Donovan, George Winsborrow, Lee Scrafton, Andy White, Chris Rattenbury and Daniel Bingley
The Game:
Aces hosted Sparrows in their penultimate home game of the season. The game started with Aces wining the tip, who were able to translate the early possession into 4 early points before Sparrows got their first point of the game from a free throw. Aces set up with a structured press that proved successful in both phases of the game.
Aces continued with their high tempo pressing strategy at the start of the second quarter. This allowed Aces to build on their performance from the first quarter, by restricting Sparrows attacking options, whilst benefiting from turnovers in an advanced attacking position. Halftime score, 40-2 in favour of Aces.
The third quarter didn't follow the playbook as it proved to be a much more even game in the third quarter. Aces reverted to a high line defensive position, allowing Sparrows to attack with more freedom allowing their shot conversion stats to rise. Offensively Aces were able to maintain their offensive threat through quick ball movement and successful picking and curling, ultimately leading Aces to win the quarter 14-13.
Aces continued with their defensive high line strategy in the fourth quarter, this time however the home side were able to plug some of the leaks from the previous quarter. Offensively Aces continued to find success in the opposition's key, pair this with the improved defensive display and Aces saw an improvement on their third quarter performance, winning the period 21-11 and the game, 75-26.
Most Valuable Players| Daniel Bingley
Daniel was nominated as the MVP by the team for his dominant big man display in the game against Sparrows. It was only Daniel's second game for the club and the first in his new chair. Coming on as a sub, Daniel was proved to be an important asset in both phases of the game. Offensively his height and power put him in key positions to convert shooting opportunities and defensively he dominated the backboard claiming defensive rebound after defensive rebound.
Coming Up…
Aces are next in action against London Titans at The Copper Box, Sunday 8 April 2018, tip-off 4:15pm