Aces 1 v Hampshire Harriers 2
Tuesday, July 25th, 2017 at 2:30 pm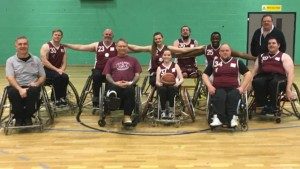 Stoke Mandeville Stadium | 14 January 2017 | 13:30 
Coach: Nesad Causevic
Squad: Andy White (c), Leanna Adams, Patrick O'Donovan, Zviko Chigumba, Jason Meyer, Chris Rattenbury, Craig Winspear & Charlotte Thornton-White
The Game
Aces first game of 2017 saw them go up against Hampshire Harriers 2 in the rearranged fixture from the beginning of the season. The game started with Hampshire Harriers in possession after winning the tip-off, but with their first defensive shutout of the game Aces were soon able to counter attack and open the scoring. Aces continued with their strong defensive display, limiting Harriers shooting opportunities. Offensively Aces were able to move the ball well, creating shots that they were able to finish. The first quarter ended 16-3 to Aces.
It was much of the same in the second quarter with Aces remaining resilient in defence, limiting Hampshire Harriers shooting opportunities from both inside and outside the paint. Offensively Aces were still able to find the net on a consistent basis as a result from some great picks, curls and ball movement. Aces won the second quarter 20-2. Halftime score, 36-5
Aces were guilty of switching off slightly in the third quarter allowing Hampshire Harrier time and space to move the ball around and put up some shots, something they had struggled to do in the first half. Aces soon started to up their performance levels but it wasn't enough to lose the third quarter 8-12.
At the start of the fourth quarter it was an end-to-end game with the score going from 0-0 to 4-7 to Hampshire Harriers in a matter of 5 minutes. However with 5 minutes still on the clock Aces were able to lock down their defence, going on to score 14 points without return. Final score 62-24 to Aces.
Most Valuable Players | Charlotte Thornton-White 
Charlotte was nominated the MVP against Hampshire Harriers by her teammates for her contribution to the teams attacking play. Through her intelligent offensive play, utilising picks and curls Charlotte was able to free up space and quite often give Aces a numerical advantage when attacking.
Coming Up…  Aces are next in action against Thames Valley Kings at Stoke Mandeville Stadium, Saturday 28 January 2017, tip-off 2:30pm