Aces 1 v London Titans
Monday, April 22nd, 2019 at 1:28 pm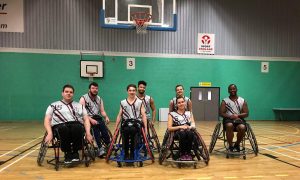 Stoke Mandeville Stadium
7 April 2019 | 13:30
 Squad:  Leanna Adams, Charlotte Thornton White, Ella Beaumont, Charlie Adams, Jordan Luce, Zviko Chigumba, George Winsborrow & Andy White
The Game:  Aces played their penultimate home game of the season, coming up against London Titans at Stoke Mandeville Stadium in British Wheelchair Basketball's Division 2 South.
The games started with Aces winning possession from the tip off which led to the first basket of the game courtesy of Leanna Adams. The home side started the game fast, going on to score a further 6 points without response. Titan's first basket came in the sixth minute with a shot inside the paint from Colin Emmanuel, this saw the game settle down somewhat but it was Aces that went on to see out the quarter with a score of 16-8.
The second quarter got underway with an early basket from Wheeler of Titans. Aces followed with two quick baskets of their own courtesy of Jordan Luce and a third from Leanna Adams. Titans next points came from two very well taken free throws from Emmanuel, followed by shot from inside the paint soon after with a basket from Aces in-between. Titans found themselves restricted from this point forward, whilst Aces went on to score a further 6 points.
With half time over both teams were back on court and scoring soon followed courtesy of the home side with 7 points before Titans responded with their first points of the quarter courtesy of Wheeler. The game soon settled down and saw both teams scoring consistently. Although Titans got the final points of the quarter with Wheeler at the line for 2, it was Aces that saw the quarter come to an end, leading the game 48-22.
Aces started the fourth quarter with a level of intensity that seemed to catch the travelling side somewhat off guard with 11 uncontested points to start the quarter. 6 points soon followed from the travelling Titans courtesy of Spry-Shute (2) and Wheeler (4). The game once again settled down and Aces saw out the game going on to win 65-32.