Aces 1 v London Titans
Tuesday, December 19th, 2017 at 2:34 pm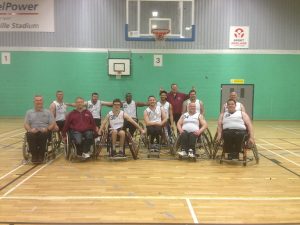 Stoke Mandeville Stadium | 17 December 2017 | 13:30
Coach: Nesad Causevic
Squad: Daniel Bingley, Ben Pritchard, George Winsborrow, Patrick O'Donovan, Jordan Luce (C), James Tait, Jason Meyer, Chris Rattenbury & Andy White
The Game
Aces played their final game of 2017 at Stoke Mandeville Stadium going up against London Titans. Aces won possession from the tip off and were able to find the basket on their first attack of the game with Jordan Luce getting the first points of the game.
From the basket Aces played a structured hustle which proved effective throughout the first quarter. Aces were able to score 21 points without an answer before Titans got their first points of the game through their number 13, Wheeler. The quarter ended with free throws for the traveling side with them getting 1 from 2. The score at the end of the first quarter, 23-3 in favour of Aces.
The second quarter was a much more even affair with Aces dropping back to a basic defensive positioning. Both teams defending well, limiting each other's scoring opportunities. It proved to be a free flowing quarter with the two sides taking it in turns to attack and score. The second quarter score was 8-8. Half time score, 31-11.
Unlike the second quarter, the third quarter proved to be a higher scoring period and a much faster one at that. Both sides still attacked with relative freedom and defensive lines were breached with more ease, leading to quite an entertaining quarter for spectators. The score at the end of the third quarter was, 18-12 in favour of Aces. Game score, 49-23.
The fourth quarter was a carbon copy of the third, with both teams deciding to defend deep allowing their opponents to get into the attacking phase of their game. In the end there wasn't much to separate the two sides in this quarter as both sides took their chances at the basket well. However, it was Aces who came out on top winning the quarter, 14-12 and the game, 63-35.
Most Valuable Player: Ben Pritchard
Ben was nominated MVP for today's game for his contribution to the team in all phases of the game. Defensively he was vocal and communicated well, especially when Aces played the hustle. In the offensive phase of the game Ben was always an available outlet, made some good picks and at one point played one of the passes of the game to Chris Rattenbury for his first basket of the game.
Coming Up…
Aces are next in action against Hampshire Harriers at Oasis Academy Mayfield, Sunday 21 January 2018, tip-off 13:20 pm