Aces 1 v Norwich Lowriders
Tuesday, March 19th, 2019 at 1:42 pm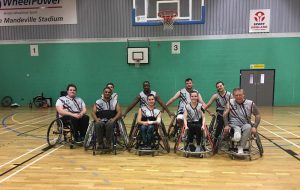 Stoke Mandeville Stadium | 24 February 2019 | 13:30
Squad: Leanna Adams, Ella Beaumont, Charlie Adams, Zviko Chigumba, Barry Wells, George Winsborrow, Denny Vettom & Andy White
The Game: Aces saw the arrival of Norwich Lowriders to Buckinghamshire for the British Wheelchair Basketballs, Division 2 – South. The game got underway with Lowriders taking possession from the tip, which lead to the first basket of the game. Aces responded quickly with their first of the game, coming from Leanna Adams. The quarter continued in an even manor, with both sides able to take shots at basketball. But it was Norwich Lowriders who won the quarter 12-10.
Norwich went into the second quarter with strong offensive play once again, taking an early shooting opportunity, which led to a foul. Thrower went to the line and converted both shots, leading to the first points of the quarter. Aces went on to score 3 uncontested baskets before Norwich scored 3 of their own to close out the quarter.
The third quarter started with Lowriders back at the free throw line but this time they were unable to convert. The first basket of the quarter came from Aces before Lowriders responded with one of their own. Aces soon took control of the quarter when they were able to score 10 points with Lowriders only scoring 4 points in the same time period.
The fourth quarter got underway with Aces scoring through Leanna Adams, but it was Norwich Lowriders who really took hold of the game. The travelling side went on to score 12 points without response before Aces went to the line from a shooting foul. However Aces could only convert 1 before going on to score a further 6 points whilst Lowriders scored an addition 2 points.
Norwich Lowriders took the win, 41-46.