Aces 1 v Plymouth Storm
Tuesday, July 25th, 2017 at 2:51 pm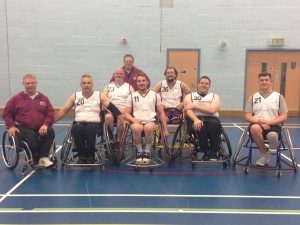 Aylesbury High School | 6 May 2017| 14:30
 Coach: Nesad Causevic 
Squad: Nesad Causevic (c), Patrick O'Donovan, Andy White, Ben Pritchard, Jonny Holloway & Craig Winspear
The Game
Aces played their final home game of the 2016/17 season against Plymouth Storm at Aylesbury High School. Aces started the game with possession after successfully negotiating the tip off but were unable to make it count on their first attack. After their defensive shut out Plymouth Storm went on the attack scoring their first basket of the game. The game continued in this manner, going back and forth until the end of the quarter with the scores tied at 8-8.
Like the first quarter, the second quarter was once again a free flowing game with both sides taking it in turns to go on the attack. Both sides played some strong basketball but it was the travelling side that took the spoils of the quarter, winning the quarter 10-8. Half time score, 16-18 to Plymouth Storm.
The third quarter was one for Aces to forget. Aces had their chances but it was Plymouth Storm who managed to pull away with multiple defensive shut outs followed by fast break. This tactic continued for the travelling side and Aces struggled to put a stop to this. Plymouth Storm won the quarter 11-2.
The final quarter proved to be much of the same for the home side. Once again Aces had their opportunities but were unable to find the basket on a consistent basis. Defensively the home side started to shut down the fast breaks from their opponents but it wasn't enough on the day with Plymouth Storm winning the quarter 10-2. Final score, 20 – 39 in favour of Plymouth Storm.
Most Valuable Player – Andy White
Andy was nominated as MVP by his teammates due his fantastic shooting from outside, all game, Andy was the only player in the game to score a 3 pointer. Storm got wise and started jumping out on him, but that didn't phase him. In addition to his excellent shooting performance Andy also did an excellent job in defence, enough to stop a few fast breaks, even stopping a 3 on 1 offence at one point.
He did all this with a cold, having missed training the night before due to the start of his cold, it didn't stop him from having a fantastic game.
Coming Up…  Aces play their final game of the 2016/17 season against Warwickshire Bears at Warwickshire College, Sunday 14 May 2017, tip-off 13:00 pm.