Aces 1 v Sussex Bears
Friday, April 26th, 2019 at 1:00 pm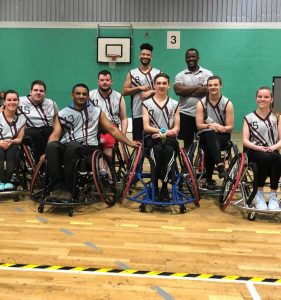 Stoke Mandeville Stadium
13 April 2019 | 13:30
 Squad: Leanna Adams, Charlotte Thornton White, Ella Beaumont, Charlie Adams, Jordan Luce, Zviko Chigumba, George Winsborrow & Andy White
The Game: Aces were at the place they call home, Stoke Mandeville Stadium to host Sussex Bears in British Wheelchair Basketball's Division 2 South.
The games started with Aces winning possession from the tip off which led to the first basket of the game courtesy of Leanna Adams. The travelling side soon returned with a basket of their own before Aces went on to score 10 points without return, thanks to an effective high line defensive setup and strong transitional play from defensive through to attack. Sussex Bears went on to score 5 points throughout the remainder of the quarter whilst Aces were able to add a further 7 points to their scoring figures.
Aces started the second quarter with another basket courtesy of Jordan Luce before Sussex Bears got their first points of the quarter with two quick baskets. Aces remained calm and returned with three uncontested shots of their own. The home side went on to once again tighten up their defence, only conceding a further 7 points throughout the quarter. Offensively Aces maintained the intensity in their attack and closed out the half with a lead of 40-18.
Both teams were back on court after the half time break and Aces were first on the score sheet once again with two quick baskets from Jordan Luce. The game levelled out some what in the fourth minute with both teams taking it in turns to convert shooting opportunities but the early baskets from Aces at the beginning of the quarter proved to be the difference as the home side won the quarter, 17-13.
Like the previous quarter the fourth quarter got underway with two quick baskets from Aces. Both sides shared the scoring in the minutes that followed before the home side took control of the quarter with three uncontested baskets. Aces continued to limit Sussex Bears scoring opportunities and ultimately closed out the game with a final score of 71-39.