Aces 1 v Thames Valley Kings 1
Tuesday, July 25th, 2017 at 2:34 pm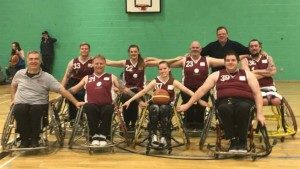 Stoke Mandeville Stadium | 28 January 2017 | 14:30 
Coach: Nesad Causevic
Squad: Leanna Adams, Patrick O'Donovan, Andy White (c), Jason Meyer, Craig Winspear, Charlotte Thornton-White & Barry Wells
The Game
Aces started the game on defensive duties after losing out on possession from the tip-off, but with a defensive shut out were able to attack scoring their first points of the game. The first quarter rolled on with both teams having equal share of the ball, but it was Aces with the stronger defensive line and better shooting success rate that went into the second quarter leading 13-7.
In the second quarter both teams seemed to tighten up defensively causing a lack of shooting options for one another making the open shots harder to create and finish. This continued throughout the quarter but it was Thames Valley Kings who edged the quarter winning 4-8. Halftime score 17-15 to Aces.
Like the second quarter, the third quarter turned out to be another close affair, with both sides keeping a strong defensive line and limiting each other's shooting opportunities. However it was Aces who came out on top this time winning the quarter 8-6.
The fourth quarter started with the score line at 25-21 in Aces favour. Unlike the two quarters before hand Aces found a second gear and were able to pull away from the traveling team whilst still limiting the shots at their basket. With a great defensive performance paired with strong attacking play and a game winning performance by Leanna Adams, scoring 17 points. Aces won the quarter 17-2. Final result Aces 42-23 Thames Valley Kings
Most Valuable Players | Leanna Adams
Leanna was nominated as MVP's against Thames Valley Kings for her game winning contribution to the team in the fourth quarter scoring 17 points. Not only that but she was ever present throughout Aces attacking play as well as defensive efforts.
Coming Up…  Aces are next in action against Thames Valley Kings at Kennet Leisure Centre, Sunday 19 February 2017, tip-off 12:20pm