Aces 1 V Thames Valley Kings
Saturday, October 13th, 2018 at 12:24 pm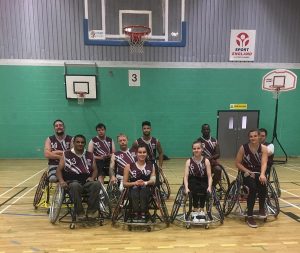 Stoke Mandeville Stadium | 7 October 2018 | 15:30 
 Squad:  Barry Wells, Leanna Adams, Charlotte Thornton White, Andy White, Craig Winspear, Ella Beaumont, Jordan Luce, Denny Vettom, Zviko Chigumba & George Winsborrow
The Game
Aces got their 2018/19 season underway in British Wheelchair Basketball's Division 2 South at home to Thames Valley Kings. The game started with Kings winning possession from the tip, however Aces were able to successfully defend Kings first offensive move of the game, before going on to score the first points, of what proved to be an end to end game.
The second quarter got underway with Aces scoring two consecutive baskets without response before Kings got two of their own. The quarter continued with both side taking it in turns to put points on the board. However it was Aces who went into half time with a narrow lead, 29-23.
The third quarter saw Aces defensive discipline falter and Kings were able to take advantage of this, scoring with more consistency then in the previous quarters. Offensively Aces were still able to find the net, however it was their defensive frailty that cost them, losing their lead for the first time and the third quarter 18-12.
The final quarter saw the game revert back to being an end-to-end game, with both sides scoring well. However the defensive frailty was still there to see at times and Aces weren't able to regain the lead. The final buzzer went with only a point in it. Aces 57-58 Thames Valley Kings.
Although it was not the result Aces were after, it demonstrated how far the team had come in a few short weeks. As Morgan Wooten once said "You learn more from losing than winning. You learn how to keep on going." Watch this space
Coming Up…
Aces are next in action against Sussex Bears at The Sir Robert Woodward Academy, Lancing, Saturday 3 November 2018, tip-off 1pm