Aces 1 v Warwickshire Bears
Wednesday, February 20th, 2019 at 1:57 pm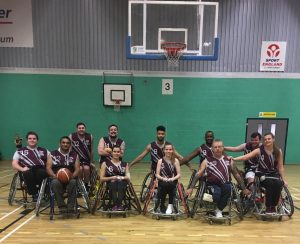 Stoke Mandeville Stadium | 10 February 2019 | 13:00
Squad: Leanna Adams, Charlotte Thornton White, Ella Beaumont, Jordan Luce, Zviko Chigumba, Barry Wells, George Winsborrow, Daniel Bingley, Denny Vettom, Craig Winspear & Andy White
The Game:  Aces got their first home game of 2019 underway in British Wheelchair Basketball's Division 2 South coming up against Warwickshire Bears. The game started with Aces winning the ball from the tip-off, going on to score 2 baskets before Bears responded with one of their own. This pattern continued as Aces continued to score with relative ease whilst remaining defensively strong.
The second quarter got underway with Aces maintaining their momentum from the first quarter. Remaining defensively solid Aces were able to consistently prevent the travelling side from scoring, whilst also being able to attack with speed through fast transitional play.
The third quarter saw the game level out with both sides attacking and defending in equal measure. Aces had to work hard for their shooting opportunities whilst Bears started to find their rhythm in front of basket. The third quarter was such a close game that the box score for the third quarter was drawn at 14-14.
The final quarter started with Aces scoring 4 baskets before Bears answered with one of their own. The final quarter continued with both sides creating some good shooting opportunities, however it was Aces who managed to outscore their opponents in what proved to be an entertaining final quarter.
Final score 77-40 in favour of Aces.
Coming Up…
Aces are next in action with a home game against Norwich Lowriders, Sunday 24 February 2019, tip-off 1:30pm.