Aces 1 v Worcester Wolves 1
Tuesday, July 25th, 2017 at 2:26 pm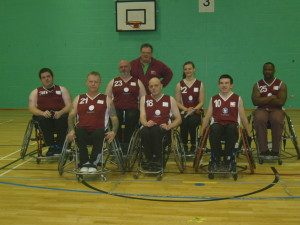 Stoke Mandeville Stadium | 10 December 2016 | 14:30 
Coach: Jez Winsborrow
Squad: Barry Wells (c), Leanna Adams, Patrick O'Donovan, Matt Fox, Andy White, Zviko Chigumba & Jonathan Adams
The Game
Aces played their final home game of 2016 when they came up against Worcester Wolves WBC at Stoke Mandeville Stadium. Aces won possession from the tip-off and went straight on the attack scoring a quick 2 points. Worcester Wolves responded quickly with 2 points of their own. The first quarter carried on in this manner with the quarter coming to a close with a score line of 6-6.
The Second quarter proved to be another 10 minutes of close basketball. With both teams well-disciplined defensively shooting opportunities were limited. However it was Aces that had more success in the paint, outscoring their opponents 9-7.
The third quarter and it was much of the same once again. Both sides were stubborn defensively leaving it to each other to break them down. With shots in the paint limited and both sides struggling from range, much like the first quarter, the third ended in a draw, 8-8.
The final quarter was underway with both teams clearly showing the nerves that come with playing in such a close game. Aces began the quarter with a basket in the second minute, with Wolves following up with one of their own moments later. However Aces scored another of their own before Wolves went on to score two uncontested baskets. Aces next two opportunities came from the free-throw line after two shooting fouls; unfortunately Aces could only score 2 points out of the possible 4. Wolves in the meantime were able to score 4 points winning them the quarter 10-6.
After a very close game, Worcester Wolves were the victors with a final score of 31-29.
Most Valuable Players | Zviko Chigumba & Jonathan Adams 
This week both Zviko and Jonathan were nominated for the MVP award by their teammates for their dedication and support for the team. Unfortunately neither saw any court time due to the nature of the game however their support was unwavering with Zviko even giving his chair up so Patrick could continue playing after his chair was damaged.
A special thanks has to also be given to our loyal supporters, newcomer Ben, and the staff & patients of the National Spinal Injuries Centre for your support on the day, it was highly appreciated. Thank you.
Coming Up…  Aces are next in action against Hampshire Harriers at Stoke Mandeville Stadium, Saturday 14 January 2017, tip-off 1:30pm