Aces Diamonds Junior League Round One
Thursday, November 30th, 2017 at 3:48 pm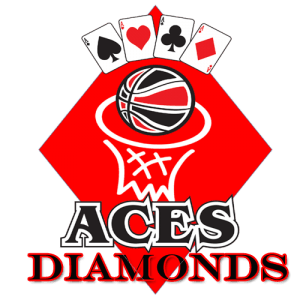 Finally, Junior League is here. Something the players have been looking forward to for months. On the day Aces Diamonds were up against Newark Jaguars and Norwich Lowriders. The squad was missing a few players from last season due to one being injured and a few being too young for the new structure. That didn't stop the six players that were available turning up and giving their all for 80 minutes across the two games.
First game was Aces Diamonds against Newark Jaguars, Jags were a well drilled team who interlinked with each other really well and they had a little bit more speed than the Aces Diamonds making it difficult to stop their fast breaks. They had a few larger players in there making them a difficult team to defend against and very hard to get a rebound against them. Aces Diamonds started a little slow with a lack of confidence in the first quarter having to blow out the cobwebs from a summer off. They changed that with lot stronger performances in the remainder of the game. Even with all that, the Aces Diamonds played hard for 40 minutes in that game but unfortunately came up short with a score of 62-4 with our two baskets both coming from Charlie Adams.
The middle game was Jaguars against Lowriders, a very evenly matching pairing with Jaguars taking an early lead and maintaining it into the second half. A late surge saw Lowriders get a brief lead before Jaguars showed what they could do with their team work scoring ten points uncontested. That claw back was just a bit too much for Lowriders to catch up to. The final score of 45-35 to the Jaguars.
Final game of the day was Aces Diamonds against Norwich Lowriders. Having grown their confidence after finishing the first game with a strong performance, the Aces Diamonds went into this game ready to play. They managed 6 points in the first quarter alone, two baskets by Yassine and one by Charlie, they lost the quarter 11-6 to Lowriders. Again, Lowriders had a older, bigger squad than Aces Diamonds making it another tough match. But Aces Diamonds were not for rolling over, they were there to play and managed to get 15 points in this match, unfortunately not enough with Lowriders winning 61-15. Great performance from all 6 players again with Yassine scoring four baskets plus one free throw, and another two baskets from Charlie.
A big thank you PJ and Matt who although unable to play in this round turned up to support their team mates. A big thank you to all the family members who turned up to support and help run the mini café setup on the day.
To find Aces Diamonds on Social Media please search for #AcesDiamonds.
You will find them under our main group on Facebook and Twitter.