Aces Friends and Family Fundraiser 2016
Tuesday, July 25th, 2017 at 1:48 pm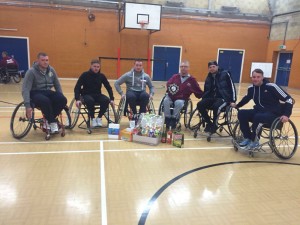 Aces WBC Held our annual Aces Friends & Family FUNdraiser yesterday at Bourne End Junior Sports Club and what a fantastic day we all had.
Seven teams entered this year so we held a Round Robin Tournament, where every team played each other, and every game being a hard fought battle with numerous baskets scored in each game. Competition was high, with all but one team clocking up wins, and the majority of teams clocking up 3 or more….
Half way through the day we took a break to allow our Under 15's to put on a demonstration game and show people what the Aces are all about. It was fantastic to see the kids applying everything they work on in training and seeing it all come together for them in their game and I'm pretty sure we have future GB players amongst them.
When we resumed the tournament it was crunch time for 3 teams: Southcourt Massive, Mick Surman Motorcycles and The Taitinators, were all in a position to win the tournament and take the trophy…….. And best of all, they were yet to play each other so as you can imagine the second half was fairly intense.
We came to the last round with all to play for; if Southcourt Massive lost their final game then the winners of the very last game between Mick Surman Motorcycles and The Taitinators would force Southcourt Massive into play off's to decide the tournament winners.
All 3 teams gave it all they had and the result ended:
In 3rd Place, with 4 wins and only 2 losses: Mick Surman Motorcycles
In 2nd Place, with 5 wins and only 1 loss: The Taitinators
And the Winners, as yet unbeaten for the 3rd year running: Southcourt Massive
Congratulations Southcourt Massive.
Aces would like to thank all of the participants for their contributions to our Club and for helping us put the FUN into FUNdraising. You all helped make the day our best one yet and it was great to see you all enjoying yourselves. There was plenty of banter and not a harsh word all day, which was absolutely fantastic, thank you all.
I would personally like to thank the Aces members that contributed to this event, I wouldn't be able to organise it if it wasn't for your continued help, support and donations; whether it be food for the club to sell, prizes for us to raffle, your vehicles to help us transport the wheelchairs and of course the time you set aside for these events I really do appreciate each and every one of you and everything you do.
Special thanks have to go to Bourne End Junior Sports Club for allowing us to use their facilities every year and to an outstanding referee for giving us her services for the day, thanks Shona Harnett.
Collectively we raised £1175 for the club, thanks again to all involved.