Aces Friends and Family Fundraiser 2017
Tuesday, July 25th, 2017 at 1:59 pm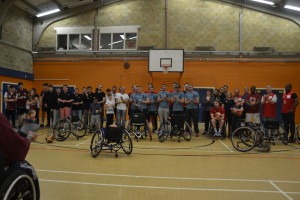 On the 21st May Aces hosted the annual 'Friends & Family FUNdraiser' at Bourne End Junior Sports Club. In total 7 teams entered the fundraising tournament, all made up of friends & family of Aces players or supporters of the club itself.
The day was structured around a 7 team round robin tournament, allowing each team to play one another once. In total 21 games were played throughout the day, with each game running for 8 minutes. The day was split in half with a demonstration game being played between the Aces players present on the day, this included a mix of seniors and juniors.
All 21 games were played in extremely good spirit and all had fun throughout the day. The Final standing for the day are listed below:
| | | | |
| --- | --- | --- | --- |
| Team | Wins | Draws | Loses |
| Southcourt Massive | 6 | 0 | 0 |
| Mick Surman Motorcycles | 0 | 3 | 3 |
| The Taitinators | 3 | 0 | 3 |
| Aces Parents | 3 | 0 | 3 |
| Synergy Slammers | 2 | 1 | 3 |
| Houston Pocket Rockets | 4 | 1 | 1 |
| Wendover Warriors | 0 | 1 | 5 |
Southcourt Massive
Houston Pocket Rockets
The Taitinators & Aces Parents
Synergy Slammers
Mick Surman Motorcycles
Wendover Warriors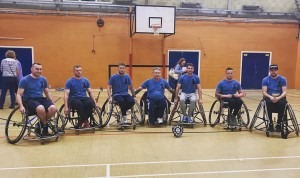 The winners of the Aces 'Friends & Family FUNdraiser' for the fourth consecutive year are Southcourt Massive, although having not lost a game in the four years they have taken part they were pushed hard this year by Wendover Warriors in particular.
Away from the basketball, food, drink and raffle tickets were on sale throughout the day. Aces player and supporters donated all the food and drink for the day and after deducting the cost of the venue raised £157.45 on the food and drink alone.
Once again the raffle had some big-ticket items that really drew in the sales. Everybody at Aces would like to thank all of those who made donations to the raffle prizes but a special mention has to be given to player and coach, Patrick O'Donovan who with the support of Jessops provided those big-ticket items.
In total the raffle raised an impressive £330. A figure that would not have been possible without the sales generated by Emma Wells, who year on year seems to sell more and more raffle tickets.
After combining the takings of the food & drink, raffle tickets and the money raised through teams entering the Aces Friends & Family FUNdraiser along with any other additional donations, Aces are proud to announce that the day raised an impressive £1,232.45.
Everybody at Aces would like to thank all those that contributed to the day and made it a success. Your continued support to the club is appreciated at every level of the club, thank you.
Update: Everyone at Aces WBC would like to express their gratitude to the DHL UK Foundation for their donation of £176.06 from their "Match It" scheme. Additional thanks go to George Stan, an Aces member, for making the application on our behalf.
You might be interested to know that in 2015/16 the DHL UK Foundation made 884 grants totalling £366,403 benefiting groups as diverse as school PTA's and hospices. You guys absolutely rock, on behalf of those you've helped; thank you very much.
Finally, a special thank you has to be given to Barry Wells and family for once again organising and running such a successful event. Your hard work and commitment to the club is something that should never be taken for granted and everybody at Aces would like to thank you for your continuous commitment to the club both on and off court.
Can you be the team to finally defeat Southcourt Massive?
Stay tuned to Aces official Facebook page to find out about the next Aces Friends & Family FUNdraiser.