Aces Friends and Family Fundraiser 2018
Tuesday, May 15th, 2018 at 1:09 pm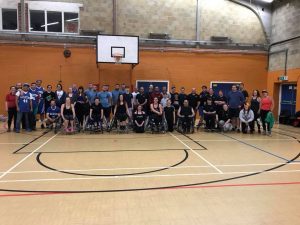 We held our annual Aces Friends & Family FUNdraiser at Bourne End Junior Sports Club on Sunday (13th May) and what a fantastic day we all had.
Nine teams entered this year; and as always we held a Round Robin Tournament so that every team gets equal court time and get to play each other, which is always fun as the banter builds throughout the day.
The Nine teams that entered were:
Southcourt Massive
Mick Surman Motorcycles
Wendover Warriors
Lane 4 Management
Chiltern Fastbreak
Stoke Steelers
Raggy Dolls
Wheelie Good
Synergy Slammers
We knew that competition would be high this year so we also ran a points system throughout the round robin, awarding 2 points for a win, 1 point for a draw and 0 points for a loss.
We started at 10.00 am and teams started clocking up wins, draws and obviously some losses, but moral was high and everyone was checking the score board, keeping track of their competition and their own progress.
Half way through the day we took a break from the tournament and played a few demonstration games with teams playing against 3 of our Junior and 2 of our Senior players. This was really good as it gave our guests a taste of our players in action and showing them what our sports chairs can really do….. I think a few guests were quite amazed at some of the chair skills being displayed.
We resumed the tournament with 4 teams having a possibility of winning, depending on how their next couple of games went. As we worked through the rounds that number was reduced to Three and eventually it was between Two teams, which was a close fought game ending in a draw, so each team came away with a point.
With 2 rounds still to play it was still possible for either team to win, depending on the results of their remaining games, if one team had lost their games and the other team won, they could go to a playoff situation to determine the outright winners.
However it wasn't to be, as both teams won their remaining games and the results were settled….
In 3rd place: Stoke Steelers
In 2nd place: Chiltern Fastbreak
This year's winners, who remain unbeaten for Five years, although this year they got their first ever draw are Southcourt Massive.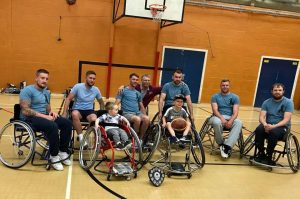 Congratulations fella's you done yourselves proud again.
Aces would like to thank all of the participants for their contributions to our Club and for helping us put the FUN into FUNdraising. You all helped make the day our best one yet and it was great to see you all enjoying yourselves. There was plenty of banter between the teams and not a harsh word all day, which was absolutely fantastic, thank you all.
I would personally like to thank the Aces members that contributed to this event, I wouldn't be able to organise it if it wasn't for your continued help, support and donations; whether it be food for the club to sell, prizes for us to raffle, your vehicles to help us transport the wheelchairs and of course the time you set aside for these events I really do appreciate each and every one of you and everything you do for the club.
Special thanks have to go to Bourne End Junior Sports Club  for allowing us to use their facilities every year and to an outstanding referee for giving us her services for the day, thanks Shona Harnett.
We hope that you everyone enjoyed themselves and is eager to return next year….. Can anyone beat Southcourt Massive?
Collectively we raised a staggering £1590 which will go a long way to in helping our club.
Huge thanks once again to all involved.