Bury Bombers v Aces 1
Thursday, March 1st, 2018 at 2:39 pm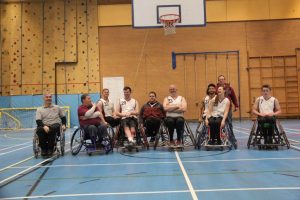 Culford Sports & Tennis Centre | 25 February 2018 | 14:00
 Coach: Nesad Causevic
 Squad: Jordan Luce (c), Leanna Adams, Patrick O'Donovan, PJ O'Donovan, Jason Meyer, George Winsborrow, Lee Scrafton and Andy White
The Game
Aces travelled to Bury St. Edmonds to play Bury Bombers. The game started with Aces wining possession from the tip, Aces went on to score five consecutive baskets before Bombers responded with a point from the free throw line. Both sides went on to score another basket, before Aces closed out the quarter with six unanswered baskets.
The second quarter saw Bury Bombers settle in to the game, who began to breakdown Aces hustle with some success. This led the game to become a more even affair with both sides taking it in turns to attack and score, with their only ever being a two point lead in the quarter until the eighth minute where Aces were able to score four baskets before Bombers scored the last basket of the quarter in the tenth minute. Halftime score, 15-47 in Aces favour.
The third quarter saw both sides continue to battle it out. However Bury Bombers were forced into a change due to a pre-existing injury, which unfortunately meant their squads dynamic was effected. Aces took advantage of this by winning the quarter 17-2
The final quarter started with Bury Bombers settled once again which made for a very competitive final quarter. The scoring remained tight with both sides taking it turns to score. However, the game took an unfortunate turn when a member of the home side sustained a head injury, meaning they could only continue with four players on court. Aces kept inline with the sporting manner in which the game had been played previously and played on with four players of their own, making sure the game kept its competitive edge. Final score, 31-76 in favour of Aces.
Everyone at Aces would like to wish Bury Bombers all the best with their current injury issues and wishes them well for the remainder of the season.
Most Valuable Players| Leanna Adams
Leanna was nominated as MVP by her teammates for her all round performance against Bury Bombers. Leanna made key contributions in all areas of the game. Leanna constantly made herself available for the ball in good positions, hit a high percentage of her shots and was an impressive part of a two up press.
Coming Up…
Aces are next in action against Brixton Ballers at Aylesbury High School, Saturday 17 March 2018, tip-off 14:30pm