Hackney Sparrows v Aces 1
Saturday, January 12th, 2019 at 12:44 pm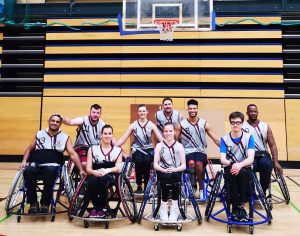 Space Leisure Centre, London
16 December 2018 | 16:20
 Squad: Leanna Adams, Charlotte Thornton White, Ella Beaumont, Zviko Chigumba, George Winsborrow, Daniel Bingley, James Tait, Denny Vettom & Andy White
The Game:  Aces travelled to London for their last game of 2018 in British Wheelchair Basketball's Division 2 South against Hackney Sparrows.
The game started with Aces scoring the first points of the game courtesy of Jordan Luce. Defensively Aces remained resolute, severely restricting Sparrows attacking play. This led Aces to not concede a basket for 4 minutes. Offensively Aces were able to break through a well-drilled defence to convert shooting opportunities into points on the board.
The second quarter saw Sparrows really settle into the game who like Aces in the first quarter saw their offensive play yield results. Defensively Sparrows remained well drilled, which led to Aces not scoring on a number of consecutive attacking phases. However with a few minutes left in the quarter, Aces were once again able to find some rhythm and the game became an end to end game of Wheelchair Basketball.
The third quarter saw the game continue in the same fashion as the final 2 minutes of the previous quarter. The game settled down and saw an end to end game develop. But it was Aces who outscored their opponents as the referee's whistle brought an end to the third quarter.
The final quarter saw the game continue in the end to end fashion seen in the third quarter. Both Aces and Sparrows took it in turns to defend and attack. However with 3 minutes remaining Aces defence tightened up and their attacking play intensified, pulling away from Sparrows as the final buzzer sounded. Full time score, 48-62 in favour of Aces.
Coming Up…
Aces are next in action against Warwickshire Bears at Warwick College Sports Centre, Sunday 6 January 2019, tip-off 1:00pm