Hampshire Harriers 1 v Aces 1
Tuesday, January 23rd, 2018 at 11:37 am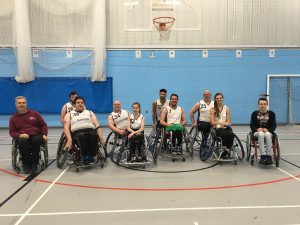 Oasis Academy Mayfield | 21 January 2018 | Tip Off 13:20
 Coach: Nesad Causevic
 Squad: Jordan Luce (c), Leanna Adams, Chris Rattenbury, Patrick O'Donovan, Charlotte Thornton White, Ben Pritchard, Andy White and George Winsborrow
The Game:
Aces had their first game of 2018, travelling to Southampton to play Hampshire Harriers at Oasis Academy Mayfield. Aces won possession from the tip-off but were unable to score from their first spell of possession. Aces moved straight into a structured press, limiting the home sides options in transitional play. With the aid of forced turnovers Aces were able to counter attack fast, causing real trouble for the home side. Aces strong defensive play and fast transitions led to Aces winning the quarter 20-4.
The second quarter was much of the same with Aces sticking with the structured press, which continued to cause trouble for the home side, who by their own admission found themselves rushing at times. Like the period before, Aces won the quarter 20-4. Half time score, 8-40 in favour of Aces.
The third quarter got underway with Aces reverting to a high line defensive strategy, which lead to the quarter being a much more even affair. With Harriers now getting in and around Aces key with more regularity allowed their shooting opportunities to increase. In addition with Aces deeper starting position, space had to be created for shooting opportunities. Aces won the third quarter 11-8.
The fourth and final quarter saw Aces revert to the structured press, which proved successful in the first half of the game. Aces began to force turnovers once again, therefore limiting our opponent's chances at basket whilst increasing their own chances at basket. As the quarter progress Aces lead began to extend again. Aces went on to win the quarter 17-2. Final score, 18-68 in favour of Aces.
Most Valuable Player | Chris Rattenbury 
Chris was the nominated as the MVP against Hampshire Harriers by his teammates for his improvements in his fitness and overall game. Chris's defensive game was dogged and his offensive game consisted of some key assists and a well-taken basket.
Coming Up…
Aces are next in action against Sussex Bears at Sir Robert Woodard Academy, Saturday 10 February 2018, tip-off 13:00pm