London Titans v Aces 1
Friday, May 24th, 2019 at 12:55 pm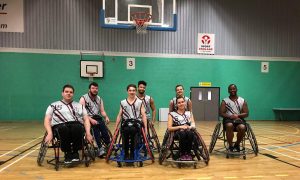 Aspire Leisure Centre
16 December 2018 | 16:20
 Squad:  Leanna Adams, Ella Beaumont, Charlie Adams, Jordan Luce, Zviko Chigumba, George Winsborrow & Andy White
The Game: Aces travelled to Stanmore, London for their final game of 2018/19 British Wheelchair Basketball Division 2 South as they came up against London Titans.
The game got underway with Aces winning possession from the tip-off, with the first basket of the game soon following for the traveling side courtesy of Jordan Luce. The home side responded with 3 uncontested baskets of their own. The first quarter continued with both teams taking it in turn to pull ahead as both sides started relatively slow.
The second quarter saw Aces really up the tempo across all areas of the court as they managed to tighten up defensively, restricting Titans offensive options, with the home side managing to amass 5 points throughout the entire second quarter. Offensively Aces transitioned well from defence in to their attacking game. Playing with good movement and strong offensive play on the sides of the key, leading Aces to collect 22 points as they headed into the halftime break.
The third quarter saw Aces defensive structure drop slightly, allowing Titans more shots at basket. However, luckily for Aces they managed to maintain there level of the previous quarter in the offensive phase of their game, which sustained the gap in the score line that they had to work hard to create. Aces won the third quarter 21-11.
Both teams were back on court for the fourth period of the game, a quarter that very much followed the script of the first quarter, with both sides taking it turns to pull away from one another in the scoring for the quarter. The first basket of the quarter came courtesy of Legesse of Titans before Luce responded with his first of the quarter for the travelling side. The scoring for the quarter remained tight but it was Titans that won the fourth quarter 13-8, it wasn't enough though as Aces came out with the win. Final score, 45-69.