Norwich Lowriders v Aces 1
Friday, January 18th, 2019 at 12:46 pm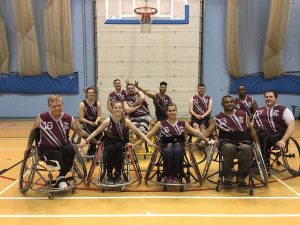 Space Leisure Centre, London
13 January 2019 | 11:30
 Squad:  Leanna Adams, Charlotte Thornton White, Ella Beaumont, Jordan Luce, Zviko Chigumba, Barry Wells, George Winsborrow, Daniel Bingley, Denny Vettom, Craig Winspear & Andy White
The Game:  Aces travelled east to play Norwich Lowriders as they looked to bounce back from their defeat the week previous in British Wheelchair Basketballs Division 2 South.
The game started with Aces winning possession from the tip who managed to make the early possession count with the first basket of the game courtesy of George Winsborrow. Norwich fired back with two quick fire baskets without facing a successful shot from the travelling Aces. The quarter continued with both sides taking in turns to seemingly lead the scoring figures but it was Aces who lead the scoring at the end of the first quarter.
The second quarter got underway with Aces in a high defensive line which restricted Lowriders options, often limiting them to shots from outside the key. Aces were also able to force some turnovers, creating opportunities for the fast break. With Lowriders defensive positions set Aces had to move the ball around the key to create space and open up shooting opportunities that the team were able to capitalise from.
In the third quarter Aces once again tried to limit the home sides shooting opportunities by keeping their forwards out of the key and jumping on their ball handler to really limit their offensive options. In the offensive phase of the game Aces were still having to create their shooting opportunities with good ball movement.
The fourth quarter continued with the same intensity seen throughout the game, which was a credit to both sides. Aces maintained their defensive discipline whilst still carrying a threat in the offensive phase of the game. Final score, 32-66, in favour of Aces.
Coming Up…
Aces are next in action against Warwickshire Bears at Stoke Mandeville Stadium, Sunday 10th February 2019, tip-off 13:00pm.