Plymouth Raiders v Aces 1
Friday, April 19th, 2019 at 1:05 pm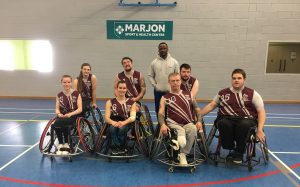 Marjon Sports Centre
31 March 2019 | 14:20
 Squad: Leanna Adams, Charlotte Thornton White, Ella Beaumont, Zviko Chigumba, Barry Wells, George Winsborrow, Craig Winspear & Andy White
The Game:  Aces travelled to Plymouth to play local side Plymouth Raiders in British Wheelchair Basketball's Division 2 South. The game got underway with Aces on the attack, however a strong defensive line limited the travelling side to a shot from outside the paint. Aces continued to battle hard for their shooting opportunities but still found themselves limited to shots from outside the paint at times.
Defensively Aces struggled to cope with the home sides speed on the counter attack. A tactical reshuffle allowed Aces to reduce Raiders opportunities on the fast break but wasn't able stop it completely. Now able to regularly set up a traditional defensive formation Aces started to reduce Raiders shooting success rate inside the key but it wasn't enough to reduce the gap in the score as the first half came to a close with the score at, 52-25 in favour of the home side.
The second half got underway accompanied with a number of changes to the home sides line up, a luxury unavailable to the travelling side. Aces came into the second half of the game determined to show what they were capable of.
With a level of intensity not seen in the first half Aces started to ask questions of the home side, Aces started meeting Raiders with a higher then usual defensive line, which led to some key turnovers, which led directly to scoring opportunities. Aces started to move the ball faster, which allowed them to create channels that they could previously. Shooting opportunities increased whilst heavily reducing Raiders shooting opportunities.
A much stronger second half saw Aces come back in the scoring but it wasn't enough to reverse the damage of the first half. Plymouth Raiders won the game with a score of 58-40, a score deficit much smaller then our first meeting a few weeks earlier.