Sussex Bears v Aces 1
Tuesday, November 6th, 2018 at 12:42 pm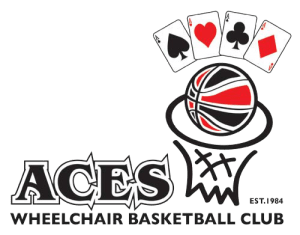 Sir Robert Woodward Academy, Lancing
3 November 2018 | 13:00
 Squad: Jordan Luce, Leanna Adams, Charlotte Thornton White, Andy White, George Winsborrow, Barry Wells, Charlie Adams & Zviko Chigumba.
The Game
Aces travelled down to Lancing for their second game of the 2018/19 season in British Wheelchair Basketball's Division 2 South against Sussex Bears, a team who Aces encountered the season before, with two highly entertaining games being played.
The game started with Aces winning possession from the tip, however they were unable to take a scoring advantage from the first attack of the game. The first points of the game came from Bears before George Winsborrow put Aces first points of the game on the board. The first quarter continued in a highly entertaining back and forth manner, with Bears taking the lead at the end of the first quarter, 16-13.
The second quarter got underway with Aces giving away an early opportunity at the line for Bears, fortunately for Aces the free throws were not successfully converted. Aces responded with two uncontested baskets, before Bears responded with two of their own. The second quarter continued with end to end action, with Aces going into half time with a narrow lead, 24-25.
The third quarter saw Aces take hold of the game, scoring 9 points before Bears responded with their first basket of the quarter. The game then settled down and the free flowing basketball continued, however Aces fast start in the third quarter saw them extend their lead going into the fourth and final quarter, 30-40.
The final quarter saw the game continue in an end to end manor with the score at 32-46 in Aces favour before Bears scored 9 points of their own before Aces responded. A well-timed time out from Aces, saw themselves calm their game down and managed to see out the rest of a highly entertaining game. Aces won the game with a score of 56-50.
Coming Up…
Aces are next in action against Sparrows at Space Leisure Centre, Saturday 15 December 2018, tip-off 4:20pm