Sussex Bears v Aces 1
Tuesday, February 20th, 2018 at 12:11 pm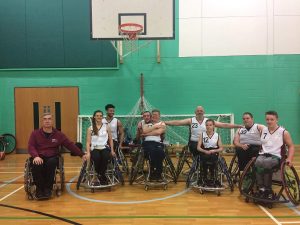 Sir Robert Woodard Academy | 10 February 2018 | 13:00 
Coach: Nesad Causevic
Squad: Jordan Luce (c), Leanna Adams, Patrick O'Donovan, PJ O'Donovan, Charlotte Thornton White, Craig Winspear, Jason Meyer and Andy White
The Game
Aces travelled to Brighton to play the undefeated Sussex Bears. The game started with Aces wining possession from the tip, Aces went on to score three consecutive baskets before Bears responded with three of their own with a basket from the paint and a point from the line. The first quarter continued to be a close battle with Aces edging the game, 10-9 at the end of the first quarter.
The second quarter found Aces struggling to adapt without Craig Winspear on court due to a couple of early fouls. Bears began to take advantage of the limited height in areas of the Aces defence, going on to scoring six points whilst Aces were only able to score two points in this time. A substitution was made and Craig Winspear was back on the court, with the added height in defence, trasition and attack Aces started to come back at Bears, scoring a further fourteen points before Bears got the final points of the quarter with a well taken three pointer from birthday boy, Josh Lawler. Halftime score, 18-26 in favour of Aces.
The third quarter saw both sides continue to battle it out. Aces applied a structured hustle, which proved beneficial as it caused several turnovers and 8-second violations, when Bears beat the hustle they found themselves with limited time on the shot clock. Aces benefited greatly from the hustle ending the quarter with 50 points to Bears 27.
The final quarter proved to be an almost perfect copy of the third quarter, with Aces once again scoring a further 24 points and Bears scoring a further 7 points this time around. Final score, 31-74 in favour of Aces.
Most Valuable Players| Jordan Luce and Craig Winspear 
Jordan and Craig were nominated as the MVP's for the game against Sussex Bears. Jordan was nominated for his leadership on court and presence in both defence and attack. Craig was nominated as one of the two MVP's because he proved to be an extremely effective part of the teams all round game.
Coming Up…
Aces are next in action against Bury Bombers at Culford Sports and Tennis Centre, Sunday 25 February 2018, tip-off 14:00pm