Thames Valley Kings 1 V Aces 1
Tuesday, July 25th, 2017 at 2:37 pm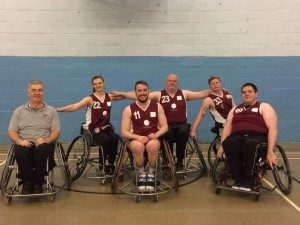 Kennet Leisure Centre | 19 February 2017 | 12:20
Coach: Nesad Causevic
Squad: Leanna Adams, Patrick O'Donovan, Andy White (c), Jason Meyer, Ben Pritchard & Nesad Causevic
The Game
Aces were in action against Thames Valley Kings in their second game of back-to-back fixtures. Kings began the game with the ball after winning possession from the tip-off and they were able to go on and score the first points of the game. Like the previous game between the two sides, the first quarter proved to be a very tight affair with both sides taking it in turns to attack. It was however Aces who came out on top winning the quarter 8-12.
The theme continued in the second quarter with both teams defending well, limiting open shots on their basket a theme continued from the first game between the two sides. With limited attacking options each side really had to work for their opportunities and after a closely thought second quarter it was once again Aces who came out on top, winning the quarter 6-8. Half time score 14-20 to Aces.
The third quarter was much of the same with both teams defending well. However it was Aces whose defence was stronger only conceding the one basket during the quarter. In the attacking phase Aces still had to work hard for their chances, but that they did winning the quarter 2-9.
The theme continues… Once again it was in the fourth quarter where Aces managed to pull further away from the home side. Defensively Aces had eased of slightly allowing their opponents more time on the ball and giving them more open shots at the basket. However it was in their offensive play that Aces really capitalised scoring 18 points in the fourth quarter alone, far more than in the previous three quarters. Final result, 22-47 to Aces.
Most Valuable Players | Ben Pritchard  
Ben was nominated the MVP against Thames Valley Kings by his teammates for his great all round performance on his debut for the club. Ben was relentless. He worked tirelessly in both offence and defence, he wasn't afraid of getting in the thick of it securing several steals throughout the game through a no nonsense press. He even ended up on the floor a few times. You certainly would not have thought it was his first ever game!
Coming Up…  Aces are next in action against Plymouth Storm at Marjon Sports Centre, Saturday 25 March 2017, tip-off 14:20pm