Thames Valley Kings v Aces 1
Wednesday, April 17th, 2019 at 10:58 am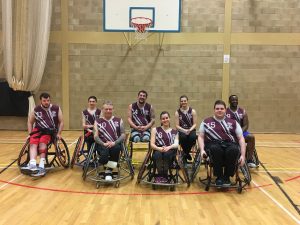 FBC Centre
23 March 2019 | 16:00
 Squad: Leanna Adams, Ella Beaumont, Charlie Adams, Zviko Chigumba, Barry Wells, George Winsborrow, Craig Winspear & Andy White
The Game: Aces travelled to Wokingham to play neighbours Thames Valley Kings in British Wheelchair Basketballs Division 2 South. The game started with Kings winning possession from the tip who made their first attack of the game count with 2 points from Reece Barker. Aces were to follow with their first points of the game courtesy of a well-taken shot from Leanna Adams. The first quarter continued with both teams fighting for the lead but it was the home side that ended the first quarter with a narrow lead, 12-8.
The second quarter got underway with the first points of the period coming from Aces. However, like the first quarter another basket soon followed courtesy of the other team. The quarter continued in an end-to-end fashion until Kings took control of the quarter from the seventh minute. Half time score 28-18.
With halftime over and both teams back on court saw Kings really up the tempo and take hold of the game. Although Aces were able to convert the first points of the quarter Kings were able to limit the travelling sides scoring to only one further basket, whilst they themselves went on to convert nine shots throughout the quarter.
The fourth and final quarter got underway with Aces wanting to prove a point to themselves and to their opponents. The travelling side managed to find a gear that they had struggled to find with any consistency throughout the game. Aces were able to tighten their defence whilst also creating some clearer shots at baskets, which saw their conversion rate increase. It wasn't enough though as Kings saw out the game, going on to win 62-35.