The Bears 2 v Aces 1
Tuesday, July 25th, 2017 at 2:55 pm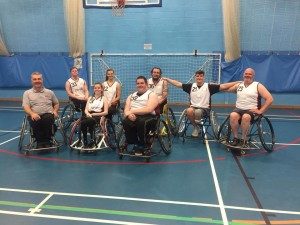 Warwickshire College | 14 May 2017| 13:00
Coach: Nesad Causevic 
Squad: Andy White (c), Leanna Adams, Charlotte Thornton-White, Patrick O'Donovan, Jason Meyer, Jonny Holloway & Craig Winspear
The Game
Aces played the final game of their season today, travelling to Warwickshire to take on the undefeated Bears 2. Aces won possession from the tip off but were unable to find the net on their first attack. Bears took possession and went on an attack of their own but was fouled during the process putting their player on the line for two shots. Missing the first and making the second, Bears found themselves with the first point of the game.
Bears went on to score a further two baskets without response before Leanna Adams got Aces first points of the day. The first half continued with Bears dominating the scoring, winning the quarter 17-9.
The second quarter was much improved for Aces who had seemed to finally feel their way into the game. Unlike the first quarter, the second seemed to be a more free flowing affair with both sides taking it in turns to attack. There was some good play from both sides with the game being played at a good speed, however it was once again Bears who took the quarter, winning 8-7. Half time score, 25-16 to Bears.
After a short halftime break the game was back underway with neither side letting up. The game continued in the end-to-end manner of the first half with both sides creating some good shooting opportunities, with both sides utilising pick & rolls and curls along with a few impressive fast breaks from the home side. The third quarter proved to be yet another close one with only one point in it again. Unfortunately for Aces it was Bears who once again took the quarter, 13-12.
The final quarter and there was only 10 points in it, all to play for. After some strong defensive play from both sides along with two missed free throws from the home side it was Aces who got the first points of the quarter. However that was then followed up by an uncontested 8 points by the home side before Aces got their final basket of the game, ultimately losing the quarter 8-4 and the game, 46-32.
Everyone at Aces would like to congratulate Bears on their undefeated season and wish them all the very best for next season.
Most Valuable Player – Charlotte Thornton-White
Charlotte was nominated for the MVP award by her teammates today for her all round performance today. Charlotte was the only player to have played the full 40 minutes of the game for Aces and in that time she created countless shooting opportunities for our forwards through some fantastic pick & rolls and curls. Defensively, Charlotte also aided the team by consistently setting picks for her teammates allowing them to get back to their defensive positions.