London Titans V Aces 1
Tuesday, April 17th, 2018 at 11:13 am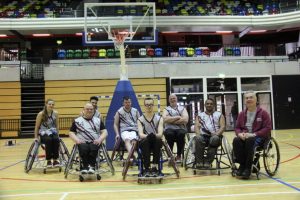 Copper Box Arena | 8 April 2018 | 16:15
 Coach: Nesad Causevic
Squad:  Jordan Luce (c), Leanna Adams, Patrick O'Donovan, George Winsborrow, Chris Rattenbury, James Tait and Denny Vettam
The Game:
London Titans hosted Aces in their penultimate game of the season. The game started with Aces wining the tip, who were able to translate the early possession into 2 early points. Aces set up with a structured press that proved successful in both phases of the game. The first quarter saw a basket by Denny Vettam on his debut match for the team. Titans scored their first basket at the end of the quarter with the first quarter score at 20-2 to Aces.
Aces continued with their high tempo pressing strategy at the start of the second quarter. This allowed Aces to build on their performance from the first quarter. Aces dropped back to a highline defence towards the end of this quarter. Halftime score, 38-7 in favour of Aces.
The third quarter saw Aces continue to dominate the game dropping to a 1 man press in this quarter then reverting back to a high line defence. This limited scoring opportunities for Titans, This allowed Aces to win the quarter 18-2.
Aces dropped back to a highline defence in this quarter with occasional two man press. The final quarter saw Titans really find their shot, they went on to score more points in this quarter than the rest of the game. Aces were still able to win the quarter 20-12 and the game, 76-21.
Most Valuable Players| Denny Vettam
Denny was nominated as the MVP by the team for his work rate on his debut for the club. Everyone agreed his basket was well deserved and a great shot. For a debut performance, having only started training this season, Denny worked really hard on court, defending the key and picking when the chance came up. Denny also increased his work rate when it was needed.
Coming Up…
Aces are next in action against Sportsable Rockets at Stoke Mandeville Stadium, Sunday 21 April 2018, tip-off 1:30pm