Warwickshire Bears v Aces 1
Tuesday, January 15th, 2019 at 12:19 pm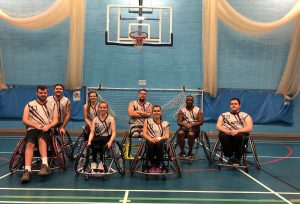 Warwick College Sports Centre
6 January 2019 | 13:00  
 
Squad : Leanna Adams, Charlotte Thornton White, Ella Beaumont, Zviko Chigumba, George Winsborrow, Daniel Bingley, Craig Winspear & Andy White.
 The Game:  Aces travelled to Warwickshire for their first game of 2019 in British Wheelchair Basketball's Division 2 South against Warwickshire Bears.
The games started with Warwickshire Bears winning possession from the tip-off but were unable to score from the first possession of the game, however the first points of the game coming from the home side from the free throw line a few minutes later. The first quarter developed into an end to end game, however Aces were defensively poor, giving Bears plenty of opportunities at basket. Offensively Aces struggled to create any clear cut shooting opportunities against a well-drilled Bears team.
The second quarter was again much of the same for Aces, who struggled to get organised defensively, something of which Bears were more then happy to take advantage of. Offensively, Aces once again struggled to create many clear cut shooting opportunities due to a lack of movement in front of the ball, meaning shots from outside of the paint were needed as the shot clock ticked down. Halftime score, 27-12 in favour of Bears.
Unfortunately the halftime break didn't bring a change of fortune for the traveling side with Aces still struggling to gain any real momentum in the game. Aces struggled to keep Bears at bay consistently enough to make their limited shot conversions make a real dent to the score bored, leading Bears to extend their lead going into the final quarter.
The final quarter saw Bears up the tempo in both defensive and offensive phases of their game, something of which Aces struggled to match. Final score, 63-25 in favour of Warwickshire Bears.
Coming Up…
Aces are next in action against Norwich Lowriders at Eaton & Otley Sports Centre, Sunday 13 January 2019, tip-off 11:30am